There is a saying that copying is the highest form of flattery. It appears that a group of creatives in Norway are enamoured with social media ideas from 2009 and have brought them back to life adding a little twist. Specifically, they have repurposed two Cannes credited campaigns from Burger King and Ikea. Normally, I would not share something that has been done before but I found that their tweaks made the ideas incredibly useful for the business, not just the Brand.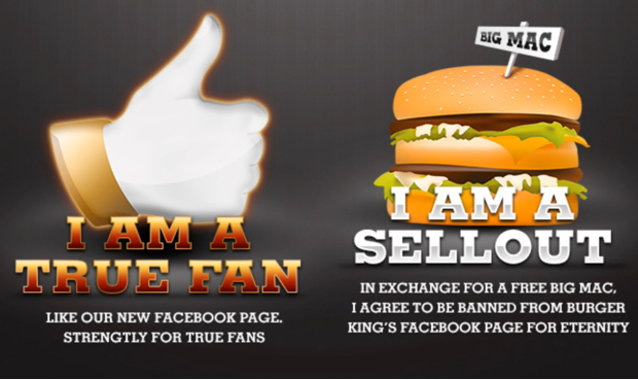 The first "copycat" campaign is for Burger King. A highly regarded and awarded campaign from 2009 was the "Whopper Sacrifice" where you are given a free Whopper by deleting 10 of your friends. It created an incredible amount of buzz and was seen as a very novel way of challenging the trend of "friend collecting" on Facebook. For the 2013 take on the idea, they wanted to combat "poser fans". Meaning, people that liked the Burger King Facebook page in Norway but really didn't care too much for the food. As such, they offered to give free Big Macs to those posers if they "un-liked" their page. In doing so, they stripped away all the non-customers and ended with a fan community that would actually buy at Burger King.  I found this to be a great way of pulling out your true fans and thus allowing your social frequency marketing to be all that more effective. They called it "The Whopper Sellout". Have a look at the Norwegian case study followed by the original 2009 US campaign.
The second "copycat" campaign is for Ikea. In 2009 an Ikea store in Malmo Sweden developed a Facebook page for the store owner that encouraged people to tag items on showroom pictures that were uploaded onto the store owner's Facebook page. Those that tagged an item first, won it. This was a brilliant way of creating noise around the community about the opening of the store. For the launch of the 2014 Ikea catalogue in Norway, they decided to use their Facebook community to "distribute it" to the population at large. The way that they did this is by encouraging their 130,000 fans to take pictures of their favourite items from the catalogue on Instagram and post it. Those that posted the item first, won it. Over the course of a short time frame, most of the catalogue had been shot, creating a "fan-developed" online catalogue. While a more polished one exists, this was a brilliant way of using their community to become salespeople for them. Have a look at the recent Norwegian case study and the famous Malmo one below.